After a successful vinyl release show here in Vancouver earlier this month at the venerable LanaLou's, Songs of Serenity is starting to pick up a little renewed momentum.  Despite spending more time lately working on the songs for our follow-up album, I am jumping at the chance to refocus on promoting this album which may have been recorded last year, but is still so very new to the world at large.
Hot on the heels of the 12″ vinyl release (get it here!) comes a review by Stacey Zering in the venerated Journal of Roots Music, No Depression.  I am way too humble to pull quotes about this "collection of earnest and passionate music" like "simple and direct, yet nuanced and sophisticated" and "Perry is a true master at crafting tunes that are quite simple at the core" so why don't you just go check out the full review for yourself HERE.  While you're there, have a look around: it's a great site and magazine highlighting music with an authentic and timeless vibe, made the way the best music has always been made: by people, for people.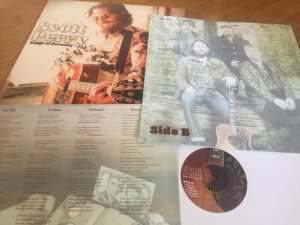 And whether you spin vinyl yourself, still do CD's or just grab your music out of the air (we are on all the streaming sites as well, just look us up!), Songs of Serenity is available in all formats except 8-track & cassette (ahh, we're not quite that nostalgic) right here on this website.  Grab yourself one (or three!) before the initial run sells out!