A quick update to acknowledge the mounting excitement as we hit a fairly important milestone: actually receiving 8 boxes filled to bursting with these lovelies!
It has been a long build-up to having a 12″ vinyl LP of our still-pretty-new album Songs of Serenity.  Getting records pressed and then shipped takes time and money (plenty of both), and you have to plan ahead to make sure you don't over-promise and under-deliver.  After all, the release party was booked months ago (Saturday, March 10th – be there or be… well, let's just say you won't be round!) and if those 8 heavy boxes hadn't arrived in time, it might be a sad show.
But now it will be a very happy show indeed!  click HERE!), but if you come on down you'll save on shipping, and get to see a great show live with not only us, but Gold Stars are for Suckers and The Top Boost as well.  You'll love them, I guarantee!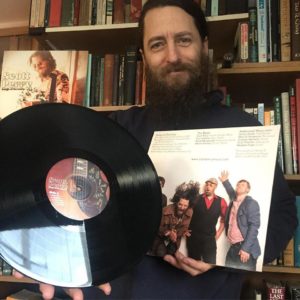 And I'm fairly confident you will like this record too, so get it now on CD, digital or the all-time classic format of 12″ high quality 180gm black vinyl.  This right here is the look of happy pride I felt first opening one of my own records – a lifelong dream realized.  Come on out to LanaLou's March 10th to share in the joy and celebration, we are going to have a legendary time!