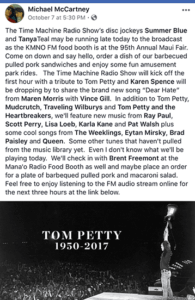 After some local airplay of a couple of songs ("Say I Do" and "gunsun" were both spun on CFRO's Radio Bandcouver by tireless champion of indie music, Mark Bignell), today marked the international radio debut of the new album, Songs of Serenity!  (You can still buy the album here – head on over and throw down a few bucks, why don'tcha!)
Big thanks to DJ Michael McCartney, a fixture of the Maui radio scene and host (along with Tanya Teal and Summer Blue) of the long-running Time Machine Radio Show heard all over the island and beyond.  In a broadcast mainly dedicated to the recently departed — and dearly missed — Tom Petty, they gave us a double spin!  After all those Petty songs, and right before two new ones from Lisa Loeb, they played two songs from our album as well: "Onboard" and the lead-off single, "Say I Do".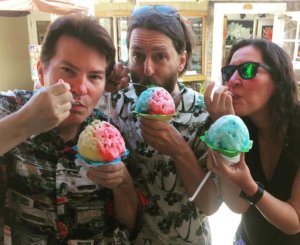 It was certainly a thrill to hear a couple of my own songs sandwiched in with those of the great Tom Petty's, and other notable acts like Lisa Loeb, Queen, and Vince Gill.  I almost got even more of a thrill imagining my music wafting out across one of my favorite places in the world, Maui — especially Lahaina town on the west coast, where Brandy and I have spent some memorable times.
The livestream was only live for so long of course (three hours) but I did record a bit of the broadcast on my phone, just for posterity.  So, here's a clip covering the end of "Onboard" with Michael's sonorous radio voice breaking in at about :45 to talk about the album a bit before spinning "Say I Do"