It was a long slow build-up to this date – my birthday as it happened! – but the show we booked to release the brand-new album Songs of Serenity went by in a flash so that I can already barely remember all of it.  That's what momentous occasions are like, they're so huge in the moment you can't really take it all in.
Good thing for pictures!
Great thing to know someone like Cariboo, folks!) after work, to make it there just in time for the show.  That's pretty amazing, and was surely a birthday surprise for me.
Wendy also did all the photography on the album itself (available here!)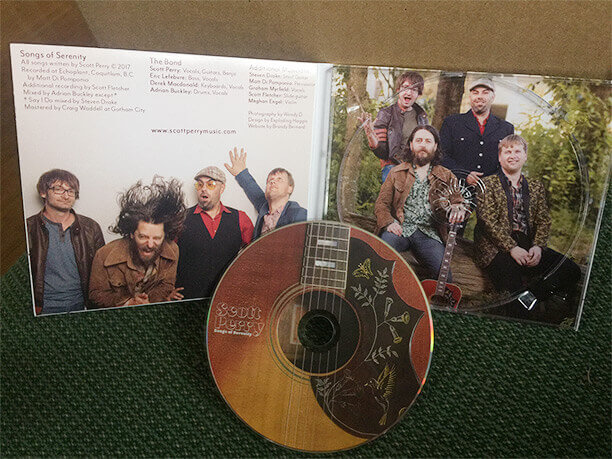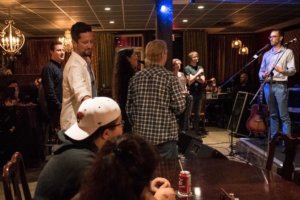 We had Gold Stars Are For Suckers open the night (great band, check them out if you haven't been fortunate enough to see them before), and my good friend and comedian extraordinaire Ben Mills hosted and gave us a great intro.  We returned the favor by serenading him with his own song – "What Would Ben Mills Do", which isn't on the album we just unleashed on CD and digital but WILL be the bonus track on the vinyl record (coming soon).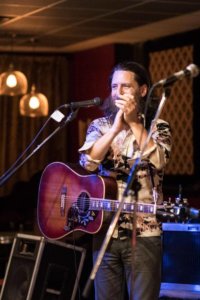 All in all, we had just an amazing night, Ben Mills working the crowd, Gold Stars more than warming them up, a super-fun set for me, Derek, Adrian, and Eric playing the whole album, and there was even cake after all that!  It was a busy Friday night in Vancouver all around so quite a few people who wanted to attend had other things going on – that's the challenge hosting a show on the last nice weekend in the city.  But the good news is there will be more, and in fact a whole other release party for the real treat – my very first actual record, in the format of my early youth, 12″ vinyl, baby!
So, do yourself a favor and pick up this album (did I mention? BUY HERE!) and we would absolutely love to see you out at our next show.  Because music really comes to life when it is played live – that's why we call it that!