Welcome to the official Scott Perry Music website, finally ready to share with the world at large! Huge shout out to Brandy Bernard for building this for me from the digital ground up.
As you will see, I do have my debut album Road to Freedom up so you can check out my earlier songs (and buy them if you insist!) – but the main purpose of this site is to launch my upcoming full-length Songs of Serenity, which is close to completion. Feels like it's been close for some time, but there's always something more to work on. With no outside pressures forcing a rushed process, we have definitely taken our time to get things right.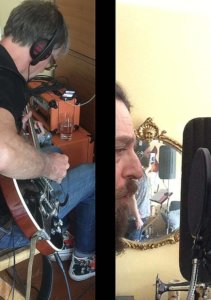 After a little more singing (harmonies and small touches) this past week, some wicked slide guitar added by the talented Scott Fletcher (pictured right, in his awesome Beatles kicks!), and a great violin part by Meghan Engel, the actual recording is now done. Editing and mopping up the tracks continues, making sure every moment is the best it can be, and then it'll be time for final mixes starting next week. That means I can finally announce some dates!
The lead-off single, "Say I Do," will be officially released Friday, August 11th – just in time for the new Scott Perry band's first live show, Saturday, August 12th at Pub 340 (340 Cambie St), opening for the always entertaining Danny Echo. Watch this space for special deals, promotions, and contests to hear it (and others) early. Plus, everyone who comes to that show will get a free download of the single.
We'll be playing at the Fairview (898 W. Broadway) on Thursday, August 31st, for the International Pop Overthrow touring festival, with more offers and deals available to gain early access to the new material and other goodies.
But the big one, (the moment I've all been waiting for!), the official release date for Songs of Serenity is set for September 8th, 2017. That just happens to be my birthday … some coincidence! Think of it as a sort of rebirth: the day I finally deliver this little nine-song collection to the world, cut the cord, slap its bottom and see what it can grow into. The album will be available for pre-order soon, with bonuses and incentives for those who pony up before the release.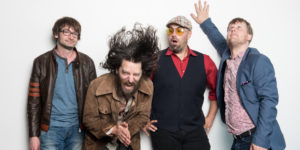 That Friday, September 8th the band and I will be playing our big Album Release Party at LanaLou's (362 Powell St), and it will be a night to remember! If you live here in Vancouver, mark your calendar; all my out-of-town friends – plan the trip and get out here, you won't regret it!!! We'll be making an event out of this, with special guests, fun diversions, contests and giveaways; celebrating my birthday and the culmination of a lot of work by many great people to bring this album to life.
The next couple months will bring this all to fruition, and there will be some cool deals and special treats coming up, so be sure to sign up for my mailing list to hear about them first. Emails will be sent sparingly, only when I have something really cool to share.
Thank you for checking out the site, and I can't wait to play my new music for you!