Scott Perry's third album with his band The EastVangelicals (following 2017's Songs of Serenity and 2018's Follow UP) is a long-planned thematic collection of love songs written over the course of a 14-year relationship.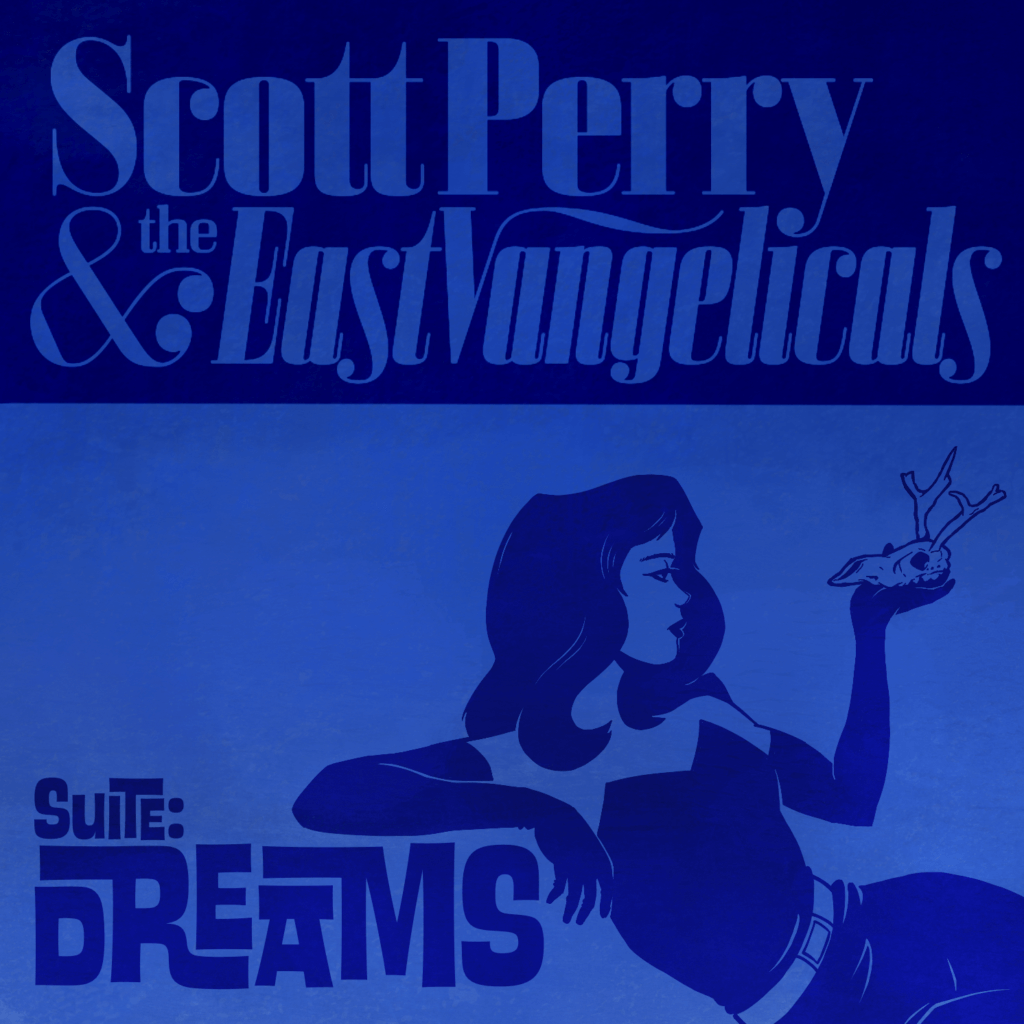 Suite: Dreams kicks off with first single "All & Everything", a bouncy 3-minute romp through the story of love, and goes on to explore the narrative of a developing relationship. "Sunshine" and "Sweetheart" were borrowed back from The Orchid Highway and Top Drawers respectively, each bursting with the joy of discovery that marks the early blooming of love. "More Than Friends" describes how love can can come over us despite ourselves, noticed by others around us before we finally admit it. The "Dreams" of the title plays on "girl of your dreams" or "dreamboat," but was inspired by several songs that actually came in a dream, chased down and captured in the light of day, notably "dreamsong" and "Dream With Me." That dreaming theme also informs the album's upbeat closer, "Can't Stop," a brand new song written to bring the story up to the current moment.
Songs are after all only dreams until someone wakes them to reality, and Scott's have been realized by his talented band, bassist Eric Lefebvre (Top Drawers, Danny Echo, The Walk-Ins), keyboardist Derek Macdonald (The Bad Beats, Pepper Sands), drummer Adrian Buckley (Cass King and the Cassettes, Star Collector), and guest musicians contributing their talents on steel guitar (Jackson Gardner), and vocals (Graham Myrfield, Tim Payne, and all the EastVangelicals).
Buy it HERE! (digital only for now; CD & Vinyl coming soon!)
The songs (click for more):
All & Everything – Though I wrote it several years into the relationship that inspired Suite: Dreams, this recording turned out so good that it bumped earlier songs to become the best introduction for the album. It does reach back to origins in the line "you're what I was looking for / when I didn't look for anything" – a sentiment that creeps into other lyrics, as does "Kept me coming back for more." The idea of being overtaken by love almost passively ("Till I wasn't leaving anymore") is a theme in several other songs as well. The refrain that grew out of that "Anymore" became a key to the song's structure, followed up with sections singing "Anyway" and "Anyone." The chorus ("You're my be-all…") and the title itself plunder well-worn clichés from the long tradition of love lyrics. All in all, this song is a pretty good summary or microcosm of the whole album, so in the end a good starting point after all!
Sunshine – Written on my patio on a gorgeous sunny day during my first year with Brandy, the riff emerged playing around with a drop-D tuning on my acoustic, and the lyrics flowed from drinking in the sweet ecstasy of fresh love and sunshine. Since I was also in my first year with The Orchid Highway, they loved this song and took it further, Rory writing the middle "rain" section and Jamie tightening the lyrics and adding the "Sunshine" over D-minor before triumphantly returning to the main refrain in D-major. We played this song at many TOH shows and recorded a version at Mushroom studios. But as that was never completed or released, this is officially the first (so far, only) Macdonald-Perry-Macdonald composition to see the light of day. 😉 As one of the first songs I wrote for Brandy, full of the joy of early discovery, this was a contender to start the album, but nestles nicely into the second slot.
Suddensweet – This song was so early, I wrote it before I met Brandy! It wasn't written for anyone else either, more a flight of fancy reflecting on how love develops suddenly, using vague concepts like "chemistry" or "destiny." There's a hint of wishful thinking or longing in my initial lyrics, and although I reworked them, the chorus retains that vulnerable uncertainty: "I want to believe / You feel the same way too / Do you?" The title is a coinage, a key hook that I hung the concept of the song on when I was coming up with it. The made-up word fit an imagined relationship, but both were based solidly in truth, and of course the idealized connection of the lyrics soon became real. The third verse describes love as reciprocal; never exactly "free" because both parties have to give, and put in effort. Love is the best thing in the world to give, because the more freely you do, the more you receive in return.
More Than Friends – Our origin story in a single song, this one came out of a memorable day when Brandy and I 'declared' ourselves a couple, after having it pointed out to us by many people (as the first line says, it was "starting to get to hard to explain to our friends what we are"). We'd been dating for awhile, maybe just beginning to question how "casual" it all really was, until the barrage of comments from others crystallized our quietly sleeping feelings. I'm sure some of that hesitation to declare yourself too openly comes from wondering if the other person feels the same way. However, falling in love has a certain inevitability, whether you're actively participating or not – there's a reason they call it "falling" not "jumping" or "leaping". I play with that sense of falling despite yourself in the line "…as we fall / with our heels way over our heads," giving another little twist to a famous cliché.
Both Got Lucky – The "Dreams" of the title is more than a nod to "girl of your dreams" or "dreamboat", it refers to several songs that came to me in a dream – including this one that played in my sleeping head as a fully formed verse. The key to capturing a dream song is to get it down the second you wake (or it will disappear forever), and take it somewhere else right away. My dreamt verse led to a pre-chorus and chorus that spawned the phrase "We both got lucky" which became the central point: any good relationship is reciprocal. "Get lucky" is expanded and enriched to include both parties as subject, not object. The call-and-response vocals I heard in my dream were made a key feature, flipping back and forth between the lead vocal and harmonies. The song's origins inspired lines, "Like I was dreaming and you made it real" and "Woke up and realized that I'm happy." There is another form of reciprocity between dreams and reality – both contribute to a unified whole in life.
Sweetheart – Also from our first year together, this was one of those tunes that came quickly and seemed to form itself. I've always loved the title word; when I blurted it out over a country-ish C chord the progression flowed naturally, and words followed like they were born to that simple melody. The song was completed later that day when I played the two verses I had for Brandy and spontaneously jumped to the relative minor singing, quite literally, "And when you're sitting in front of me…" When I played it for Eric, he said, "That's a Top Drawers song!" and so it became a staple of our live shows, a high-energy rocker included on the second Drawers album which (due to a series of delays) will be released after this one. Awkward timing, since I consider that the original version, but this song had to be on my love album, so this slower, more intimate take will be heard first.
dreamsong – Yes, this song came in a dream, but even the lyrics I dreamt were about dreaming – the first few lines up to "picturing perfection, barely glimpsed then left behind" – hence the direct title. I kept writing in that liminal state between sleep and fully awake (where the magic often happens), exploring the odd sense that you can commune with the person you love in your dreams, but a chorus eluded me for months – often a challenge with such perfectly formed dream-nuggets. I vividly remember when I finally hit on the progression (F-C-G-F) strumming a guitar in the backroom of The Railway, and the words felt like they were there already, so obvious: "These dreams come true / Through you." The live performance we captured in studio was my favorite of the sessions at Echoplant – Adrian's brushwork, Eric's smooth cultured basslines and Derek's washing organ chords perfectly fit the otherworldly feel of the subject. The atmosphere also suggested steel guitar to me, which Jackson Gardner realized beautifully.
All I Need – This was the song that finally succeeded in capturing my growing feelings for Brandy, after several failed attempts to write something for her. We'd had "lots of perfect moments" already, but even then I had no idea how many more were coming! Music and words fell together at last, and over the better part of a year I honed and trimmed until I felt like this was my best song yet. I reworked clichés from rhyming "Maybe/Baby" to the chorus phrases "you complete me" and "bringing out the best in me" but I came up with more original lines like the understated "I'd like to keep you around" by following "baby steps" to "now I'm walking next to you" which led to "We're on solid ground." Fixing that as a pre-chorus hook, I paired it later with "What I've found" and "It's the sweetest sound" and the song took shape – proving that I still had a few love songs in me after all.
Dream With Me – I woke up from this dream to capture what I'd heard on my guitar as usual, but when I sauntered back to bed still full of that feeling, I discovered that Brandy had just dreamt something very similar. In the dream, we're in a white room, I'm sitting on the bed tired but stubborn and singing the opening lyrics, imploring her to stay even if I should fall asleep. I'm not actually that clingy in real life but dreams have their own logic. Taking the near-obsession a step further, this dream song actually has a dream section, flowing out of the line "counting sheep" and the simple 4-count that sparked. I subbed in Japanese numbers as Brandy and I were taking a class together at the time, and they seemed to fit the other-worldly atmosphere. I decided to leave this song an intimate guitar-and-voice-only arrangement, though I later added a 2nd picking guitar and plenty of vocals (all me; after all, it's my dream!) to thicken it up a little.
Can't Stop – I wanted at least one brand-new song on this album to bring us up to date as it were, and this is what came out – a chorus that fittingly croons "I can't stop dreaming of you / I feel more awake when I do." Days before our first studio date, I found a bouncy Em-G progression on my acoustic, got a verse or two written and transitioned into a bridge that ended with "I don't even know how to say…" and led to a D-chord that was so clearly the start of a big chorus. I sang the first thing that came into my mind over that D, and boom, I landed on a tidy thematic wrap-up to the whole album about dreams, sunshine, and love sweet love. I unabashedly tread familiar lyrical paths, reaching back to our beginnings ("Started out / Didn't know what I was looking for"), the magic of discovery ("…took my hand and parted new horizons"), and future contemplation ("Where we go / From here may be an unknown quantity / But I just can't wait"). Because it was so fresh, recording this was a dream, partly, every player and part fit right into place, and it makes a great closer for the album.