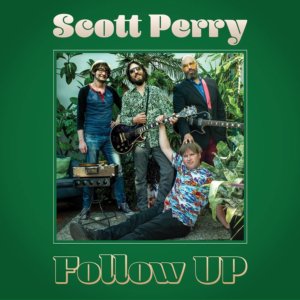 With Songs of Serenity (released Sep 2017), Scott Perry debuted his new band, now dubbed The EastVangelicals – Adrian Buckley on drums, Derek Macdonald keys, and Eric Lefebvre bass – and a style of music he'd long wanted to put out in the world. Largely acoustic-based music inspired by classic seventies singer-songwriters such as John Denver, George Harrison, Gram Parsons, but also drawing on the melodic punch of the Beatles and all the great power-pop bands they influenced.
This new album continues what Serenity started, recorded at the same studio with the same core people (Echoplant Studio's Matt DiPomponio at the board, Adrian Buckley mixing the final product). Though the acoustic guitar remains at the heart of these songs, more electric and lead guitars pop up, with some upbeat rockers kicking off the album. Still resounding throughout is a love of vocal harmony, with some lush arrangements building simple songs into a rewarding listening experience.
From a play on words, the idea of a follow-up record turned into the title Follow UP and became the running theme of the album, with each song touching on a different aspect of positivity. From the chance discovery of "Not Jane" to the spirituality of "All the World", the self-challenge and adventure of the first two songs to the pure love song goodness of "All That" capping off the collection, every song has some kind of a positive message: a way to follow the UP side of this life.
The songs:
Comfort Zone – I was on a TV show in 2011 called "Canada Sings" – two workplace "glee clubs" competing on each episode for a charity of their choice. The first day filming rehearsals, I found out there was dancing too! In interviews with the director, the phrase "comfort zone" kept coming up (as I was clearly "stepping" outside mine doing a big dance number while singing), leading to this song. The recording includes several of my fellow cast members: Yoro Noukoussi plays percussion, and Tim Payne and Graham Myrfield (who sang leads in the show) each taking a verse. (Read more)
Swept Away – My whole goal with this song was to portray a sexy flirtation with total equality, rather than objectifying someone – we are both the subject of the song. Even if the relationship is never going to be serious, that equal participation is important. I've always hated the phrase 'out of your league' or putting someone 'up on a pedestal' so I set out to puncture some of those myths in this song, while preserving the spirit of excitement when you truly connect with someone new. (Read more)
Not Jane – A real-life experience where a girl named Angel (for real) swooped down out of nowhere while a friend and I had coffee on Commercial Drive. She turned out to be a teenaged model skipping high school to do a photo shoot later. We shared a few memorable moments and she moved on, leaving a subtle wonder in her wake as we exchanged glances thinking, "did that really just happen?" I couldn't resist turning it into a song later the same day, with the twist of turning Angel into the "plain" name, and not Jane. (Read more)
I Know You – I wrote this while busking down on Granville Street, which I used to do regularly on Friday and Saturday nights, milking the exiting bar crowds of coins while they drunkenly requested Free Bird and Stairway. Sometimes there were quiet moments between waves and I would noodle around, and idly write something new while waiting for more people to show. That's how this song came to be; I still have the two tiny scraps of paper I wrote down the minimal lyrics on to be sure I remembered it. (Read more)
Be Alright – It might seem odd, but on my second "solo" album — intended to chip away at a massive backlog of songs I never got to use in any bands I've been in over the years — we included a song by Eric Lefebvre. It's one he never got to play with the Top Drawers (our other band) or elsewhere and he asked if we could do it, so I thought "why not?" It just so happened to fit the developing theme of following the UP in life perfectly (nothing more positive than the line "It's gonna be alright"), so it was in. We had a great deal of fun recording this, especially building up all the harmonies and some incredible keyboard work by Derek (OK, and some sweet guitar soloing by me). (Read more)
All The World – I came across a George Herbert poem (from 1630) and music popped into my head as I read it. Naturally I imagined many voices singing the chorus and choral verses in a call and response exchange, and I got to use some good ones on this recording: Graham Myrfield and Tim Payne joined the rest of my band singing around one microphone. (Read more)
Voyageur – When I read Six String Nation by Jowi Taylor, it blew me away – the story of how one incredible guitar, called "Voyageur," was lovingly crafted (by Luthier George Rizsanyi) out of some 64 different pieces of Canadian history. I was inspired to write this song, paying homage to hockey sticks from Gretzky & Paul Henderson, part of Rocket Richard's Stanley Cup ring (inset in the 9th fret), and many more pieces. I only wish I could've fit more of them into the song! The most crucial top piece was cut out of the Golden Spruce of Haida Gwaii, a great honour as that tree, felled before its time, is still sacredly guarded by the local Haida. It is my dream to one day record this song with Voyageur. (Read more)
The Artist – This is from a poem I wrote way back in university days. I sat across from a now-forgotten woman in a small seminar and watched while she doodled a gorgeous pair of eyes in plain ink on a sheet of paper. They seemed to stare right at me, as I certainly did at them. It was an emblematic moment that made me think about the process of creativity and expression, how art always needs an observer or audience to truly come to life. The lines blurred between the artist drawing and the one using words (and later music) to capture the feeling. (Read more)
All That – Brandy and I really hit it off when we met: our first year was magical, full of perfect moments and the promise of many more. I had already written a lot of love songs though, so I wasn't sure I could go to that well again and capture the incredible feeling of love in song – no pressure or anything! But inspiration won out, and songs started flowing, of which this is likely the best. (Read more)